Pages
Categories
Archives
on August 23rd, 2012

Print This Post
23
Aug

If all the sight-seeing has made you hungry, duck into one of Mexico City's many markets for a lunch on the run. Mercado Juarez, located on Avenida Chapultepec, is just a few Metro stops from the Palacio de Bellas Artes or the Zocalo, and is one of the best ways to really immerse yourself like a Mexico City local. Choose from any of the numerous stalls where soups, tacos, flautas and other snacks are sold for the equivalent of a few dollars. Be sure to try one of the local juices, made and served fresh, and, if you'd like, grab some fruit to go. Check out the photo gallery of Mercado Juarez below.
Continue reading "Mercado Juarez, Mexico City" »
on August 11th, 2012

Print This Post
11
Aug

Watts Towers, or Towers of Simon Rodia, is a collection of monumental artwork built by Italian immigrant Simon Rodia in south central Los Angeles. Reaching nearly 100 feet in height, Watts Towers were constructed over a period of 33 years, between 1921 and 1954. His creation was designated a National Historic Landmark in 1990. Check out the following photo gallery of Watts Towers.
Continue reading "Watts Towers" »
on April 25th, 2012

Print This Post
25
Apr

For a mind-blowing site that is out of sight for most, head out to Chaco Culture National Historical Park World Heritage Site. There you can attempt to imagine how life was for the Native Americans. See their masterful engineering tactics and how they lived in perfect harmony with the planet and its solar system. For a preview, have a look at our gallery.

Related Articles:
Chaco Culture National Historical Park website
Chaco Culture National Historical Park gallery
New Mexico Travel Guide
on March 25th, 2012

Print This Post
25
Mar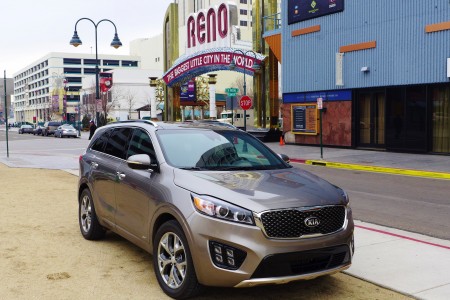 Comfortable Versatility  
Whether you are shuttling the kids to soccer practice or tearing through the mountains of Lake Tahoe, the Kia Sorento has you covered. . Continue reading "2016 Kia Sorento Launch" »
on February 18th, 2012

Print This Post
18
Feb

Ever since Charles Darwin's discoveries in the isolated Galapagos Archipelago off the coast of Ecuador in the nineteenth century, adventurous travelers have been making the journey. Consisting of thirteen large islands, six minor ones and more than 40 islets, the Galapagos Archipelago is home Australia to an astonishing online casino variety of unique animal casino species. See more pictures of Galapagos Wildlife in our photo gallery.

Related Articles:
Galapagos Island Tours
Galapagos Wildlife gallery
Ecuador Travel Guide
« Newer Posts
—
Older Posts »