Pages
Categories
Archives
on December 09th, 2015

Print This Post
09
Dec
Koons, Therrien, Hirst & more
The Broad museum showcases an impressive collection of more than 2,000 works of contemporary art and was created by art collectors Eli and Edythe Broad. Continue reading "The Broad: LA's New Contemporary Art Museum" »
on October 19th, 2014

Print This Post
19
Oct
The Art of Bugatti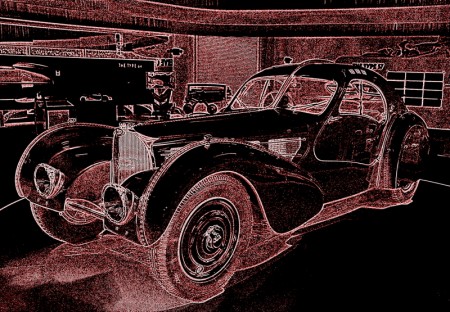 Rembrandt, Carlo, Ettore and Jean Bugatti; a family of artists.
Hidden in an industrial park in the city of Oxnard, the Mullin Automotive Museum is dedicated to the art of the French classic car. Continue reading "Mullin Automotive Museum" »
on March 17th, 2013

Print This Post
17
Mar
Impromptu Interactive Mural
Tribal art met street art at MB Abram Galleries this St. Patrick's Day 2013. An improvisation on capturing the Irish celebration took place in Downtown LA, where two friends, artist Michael Farhat of Art Mobb and artist, dancer, actor, and Grammy winning singer Chris Brown, performed a duo on the Irish theme. Far away from the grotte de Lascaux, this cave gave birth to a magnificent mural by Chris and a plexiglass replica by Mike. Needless to say, the room was full of energy and fumes from the aerosol paint.
Continue reading "St. Patrick's Day with Chris Brown" »