Pages
Categories
Archives
on October 19th, 2014

Print This Post
19
Oct
The Art of Bugatti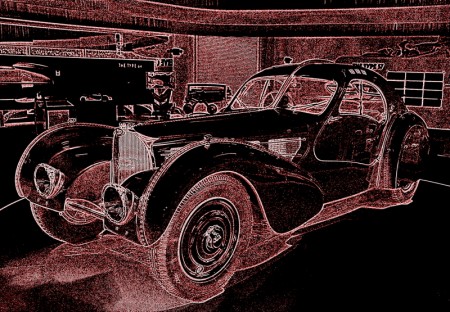 Rembrandt, Carlo, Ettore and Jean Bugatti; a family of artists.
Hidden in an industrial park in the city of Oxnard, the Mullin Automotive Museum is dedicated to the art of the French classic car. Once owned by Otis Chandler, the facility has been renovated by Peter Mullin into a first-class facility dedicated to exhibiting Delahaye, Voisin and Talbot-Lago automobiles of the past. From time to time, a dedicated show takes over the Mullin Automotive Museum, when the "permanent" collection gives way to a specific topic. In this case, a retrospective on the talented Bugatti family from France reveals the contribution of generations of brothers and sisters to the art and automobile world.
Related Links:
Mullin Automotive Museum official website
Mullin Automotive Museum: Cars & Carriages Exhibit
Petersen Automotive Museum official website
Automobile Driving Museum review
You can click on each photo to enlarge it for a closer look.
1 Comment »
[…] Mullin Automotive MuseumType: article mullin automobile museum oxnard california classis french cars […]

Pingback by Mullin Automotive Museum | Looking for it — November 23, 2014 @ 1:53 pm
RSS feed for comments on this post. TrackBack URL
Leave a comment