Pages
Categories
Archives
on April 05th, 2016

Print This Post
05
Apr
Driving the Future
What is Formula E, might you ask? The short answer: another motorsport racing series. But in actuality, it's much more complex than that.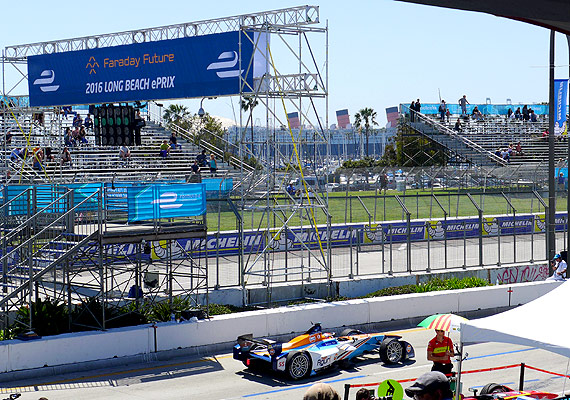 2016 Faraday Future Formula E Long Beach ePrix
You almost have to take a poetic approach to understand the sport. How fitting is it that California is the world's number one market for electric cars and that one of its most recognized celebrities, Leonardo DiCaprio, is a team owner with Venturi? The series is now in its second season and rules will evolve over time. Rumor has it that Toyota may join the sport and Jaguar has confirmed participation in the 2016/2017 season.
Now don't get us wrong, this series is very serious. The driving talent is unfathomable and the technology will only get better over time — hopefully percolating back into your every-day car by increasing range and efficiency. For now, drivers must change cars during the race but the goal is to produce a single car that can finish the 50 minute race. It also must weigh less and the battery efficiency needs to improve. Even so, Formula E CEO Alejandro Agag is very happy with the progress and future participation. Drivers who may compete in other racing series are totally charged about this form of motorsport.
Your local Go-kart is now mostly electric. The French ice racing championship, Andros Trophy, introduced electric cars back in 2007. Volkswagen has vied to become a leader in the production of all-electric vehicles. And so we are all getting closer to that day. Tesla, another California creation, has also taken a lead. Now we just need to convince Elon Musk to enter Formula E.
Just like any sport event, there is nothing like being there. However, unlike most sports, Formula E allows spectators to have an impact on the actual outcome of the race. Through the FanBoost system, participants are able to vote for their favorite driver, giving them an extra boost, perhaps for passing. Fans are able to walk through the eVillage and meet the drivers to collect an autograph.
One of the most anticipated moments of the race is during the podium ceremonies when the Champagne flows. Race winner Lucas di Grassi, along with second place Stephane Sarrazin and third place finisher Daniel Abt, sprayed and drank Champagne from a newly designed bottle of G.H. Mumm. The bottle represents innovation in design that flows with their motto: Dare, Win, Celebrate; now a hashtag: #DareWinCelebrate.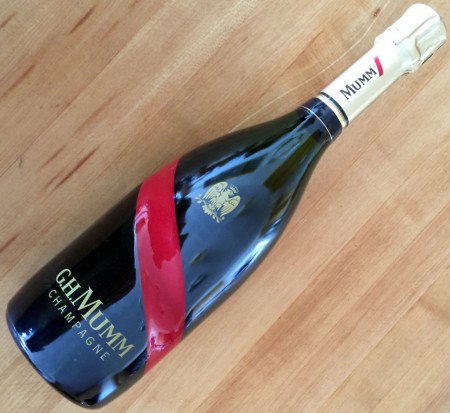 One of the great byproducts of Formula E is how quiet the cars are. Not only can you enjoy a conversation but you can also hear the mysteriously helmeted DJ EJ's beats around the racetrack. Following the race at the famous Long Beach city track, a star-studded charity gala took place at the notorious Chateau Marmont where attendees celebrated with a glass (or two) of Mumm's Cordon Rouge Cuvée.
And, of course, such a program could not exist without partners' participation, which in the case of Formula E include, Michelin, TAGHeuer, Qualcomm, DHL, BMW and G.H. Mumm Champagne.
Be sure to tune into the next leg of the racing series in France, the 2016 Visa Paris ePrix
Related Content:
For more information about the racing series, visit the FIA Formula E official website
No Comments »
No comments yet.
RSS feed for comments on this post. TrackBack URL
Leave a comment