Pages
Categories
Archives
on February 26th, 2014

Print This Post
26
Feb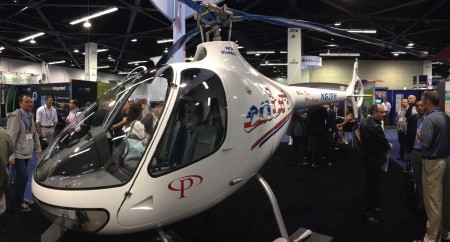 Helicopter Association International
Rotary Flight Evolves
Heli-Expo is the annual show that is truly dedicated to people in the helicopter world. Not a world with a huge population but a world of dedicated folks who share the passion of rotary flight… and that world is evolving more than ever before.Everyone was there to witness many unveils of new machines and attend a plethora of seminars. From the mighty Airbus Helicopters to a small stand selling T-shirts, they had you covered. At the entry lever and for training purposes, we were particularly interested in the appearance of the Guimbal Cabri G2, one of the stars of the show; while Enstrom Helicopter Corporation introduced a new training machine with the TH180 and Robinson Helicopter Company adds glass to the ubiquitous R22. The sleek new Marenco swisshelicopter SKYe SH09 looked promising. Bell brought the 206 replacement with the 505 Jet Ranger X with glass cockpit. At United Technologies's Sikorsky, we were impressed by the S-97 Scout and Attack helicopter; but will the  Raider concept fly into a glorious future? Next show: Heli-Expo 2015; will be in Orlando Florida March 2-5, 2015 at the Orange County Convention Center.
Related Links:
Helicopter Association International official website Heli-Expo Event: official Website Professional Helicopter Pilots Association: PHPA
You can click on each photo to enlarge and visit exhibitors' websites.
No Comments »
No comments yet.
RSS feed for comments on this post. TrackBack URL
Leave a comment